Crypto as a service
Easily embeddable FinTech APIs and SDKs that power the future of FinTech startups.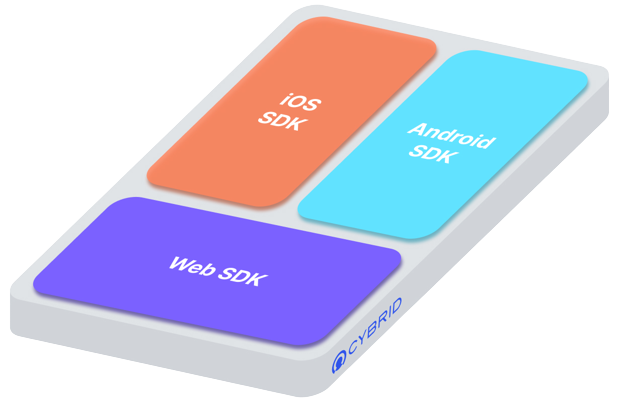 All-in-one infrastructure bridging the gap
between traditional and blockchain based financial systems.
Jump into our sandbox to experience first hand how our software operates.
Software assists with compliance requirements and anti-fraud.
Basic cash accounts and bank account connectivity via Plaid.
Smart price selection and secure custody of digital assets.
Tiered & Scalable Pricing
Understandable SaaS pricing to so you can budget with known costs.
Component support available for Android, iOS, and Web.
API clients auto-generated in 7 of the most popular coding languages.
Configure a spread fee on every trade performed.
CYBRID ENABLES MODERN BANKING
Embedded banking for the next generation of Crypto startups

OPTIMIZE YOUR BUSINESS
Accelerate your Crypto software stack
Onboarding

Operations

Compliance

Banking

Crypto Ready

Security
Customer Identity Verification
Cybrid's platform enables embedded KYC, KYB and AML as part of a seamless onboarding experience. Additionally, we enable enhanced due diligence with investor fitness questions that can be customized for the onboarding process.
Virtual Ledgering and Money Movement
Cybrid's platform enables Fintechs to easily handle double-entry accounting for all money flows with our Virtual Ledger. Additionally, our platform enables easy money movement via ACH, EFT or Wire for connected bank accounts.
Out of the box Compliance
Cybrid helps fintechs launch products faster by providing compliance programs for US and Canada that are seamlessly integrated into our platform. Speak with us about how are compliance as a service offering can support your next fintech product.
Cash Accounts and External Bank Connect
Cybrid enables basic cash accounts that enable your customers to transact in CAD or USD. Additionally we enable easy connection of external end-customer bank accounts via Plaid.
Market-ready cryptocurrency onramp and custody
Cybrid has built the infrastructure to simplify access to market makers, secure custody, and DeFi integration. Our platform enables easy onramp from fiat-to-crypto, holding digital assets such as BTC or USDC, and connecting users to decentralized finance.
We take security seriously
Partner with Cybrid Technology for safe and secure and embedded FinTech infrastructure. We are a premier developer and provider of software solutions for financial institutions and regulated entities. With years of combined experience in finance, lending, enterprise security, and blockchain technology, Cybrid offers an unparalleled level of expertise.

FAQS
FREQUENTLY ASKED QUESTIONS
Who is Cybrid Technology?
Cybrid Technology Inc is Canadian and US based FinTech provider, focused on providing world class software solutions for enabling the next generation of Fintechs.. Our team is comprised of veterans from the Financial Technology, Enterprise Security, and Blockchain industries who have come together to combine knowledge and expertise to provide the best embedded finance platform.
Who is the Cybrid platform meant for?
We built the Cybrid API platform for:
Fintech software development companies

Financial software developers

Fintech software developers

Web3 Wallet companies

Web3 developers



Really, any developer or company looking to build embedded financial products and services!
How does the pricing work?
Simple! We price like a SaaS company, with easy to understand pricing tiers. Book time to chat with our Sales team to learn more or request our pricing!
How does my company get started?
What is Embedded Finance?
Embedded finance is a term used to describe the integration of financial services into products or services, sometimes even non-financial products. In the case of embedded finance, the financial services are "embedded" within another application, making them easily accessible and convenient for the customer.
Overall, embedded finance represents a shift towards a more integrated and seamless approach to providing financial services, and is likely to become increasingly common as technology continues to advance.
What is FinTech Infrastructure-as-a-Service?
Fintech infrastructure-as-a-service (IaaS) refers to the use of cloud-based technology to provide financial institutions with the infrastructure they need to deliver financial services.
Fintech IaaS providers are often used as an alternative to building and maintaining in-house infrastructure, which can be expensive and time-consuming. By using cloud-based IaaS, financial institutions can quickly and easily access the technology resources they need, without having to invest in building and maintaining their own infrastructure, like a backend as a service. This can help them to reduce costs, increase efficiency, and focus on their core competencies.
Building for the future of financial services and applications