Embedded Finance for Building Crypto Products
Infrastructure solutions for KYC onboarding, on/off ramp, ledgering, cash accounts, crypto trade and crypto custody in a compliant way.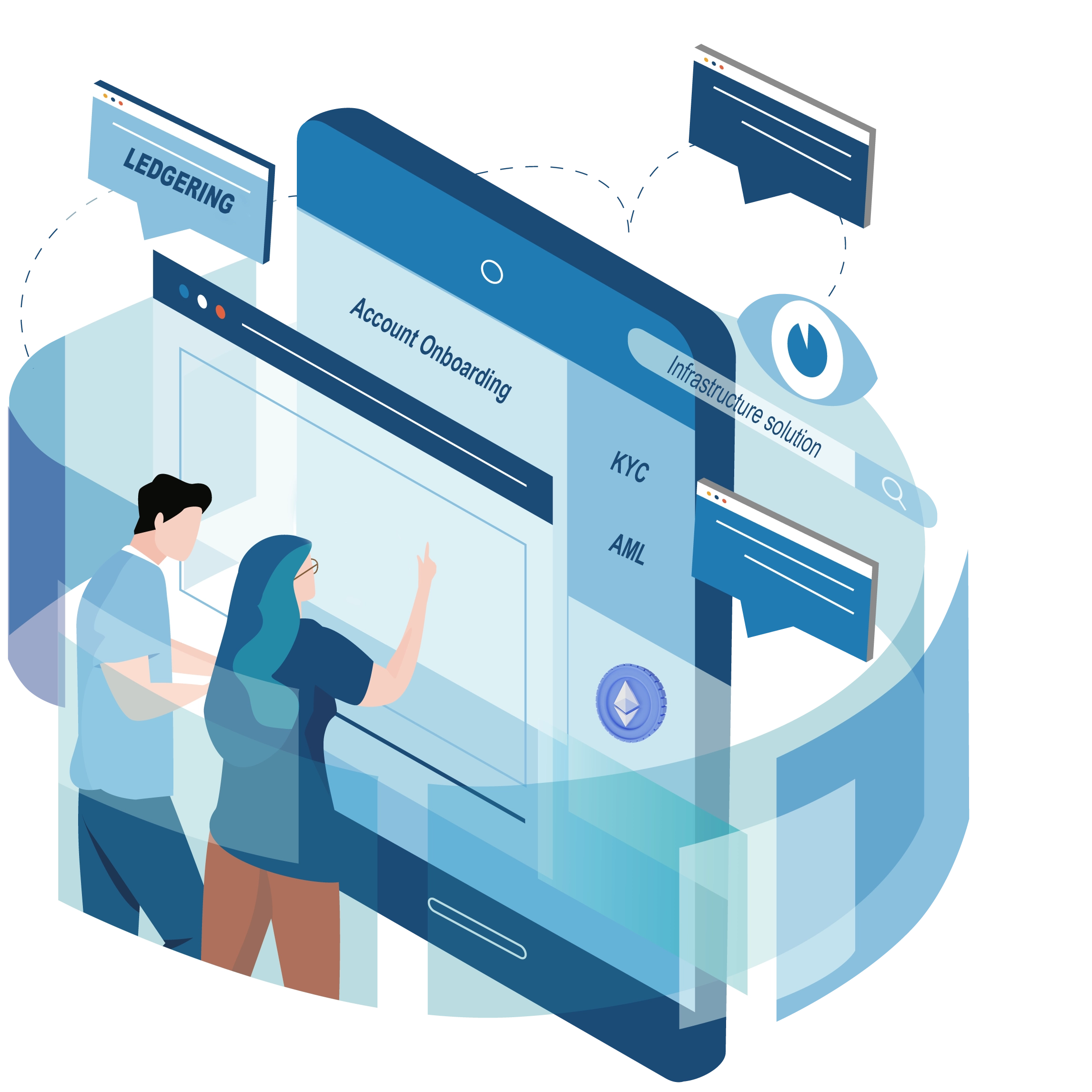 BANKING APIS
Our platform provides everything you need to compliantly onboard users, provide ongoing monitoring, and operate your crypto back-office.

Identity
Leverage our KYC API to compliantly onboard users via KYC/KYB, and perform enhanced due diligence and AML checks.

Banking
Enable basic cash accounts with money movement for end-customers, and connect their bank accounts via Plaid.

Operations
From handling double-entry accounting via our Virtual Ledger, to moving money via ACH/EFT or Wires, we handle it all.

Crypto
We enable fiat onramp to cryptocurrency via our liquidity providers, and securely custody crypto, including BTC and a USDC wallet.

Compliance
Cybrid handles compliance with regulators, ongoing monitoring, and reporting requirements.
Jump-start the development of your Crypto product. Get started with our Embedded solution instead of building your own crypto back-office.
Selecting numerous vendors to handle KYC/KYB and AML, connecting to bank accounts, funding cash accounts, and performing double-entry book-keeping is a long and expensive journey. Get it all with Cybrid.


The complexity and potential risk of building your own Fintech stack to seamlessly integrate all the vendors you need is tough, not to mention running it. Let Cybrid handle operations.


Trying to add crypto is not just expensive, but riddled with regulatory hurdles, and laywers. Lots of lawyers. Cybrid's done all the heavy lifting for you.
BUILT FOR DEVELOPERS
Launch your next Crypto product fast
Don't start from scratch! Use our modern Fintech infrastructure to save on development, legal, and operational costs, and outsource the headaches.

There is no integration fee so it's easy to get started! Just
follow the roadmap below:
We have many posts available to learn more about Cybrid and our technology. News, information, market insights, and research in one place. Make sure to subscribe so you don't miss one of our periodic posts.
Save money and accelerate your roadmap by booking time to meet with us. Whether you are flying solo on a fact-finding mission or it's with your whole team for a kick-off session - we are always available to help you succeed!
In addition to the guides, we have thorough documentation and a public Github, which includes the RESTful API, API clients in 7 languages, and UI SDK component libraries to bootstrap your project.
Move to production
Once your development project is ready and your Cybrid account is created, and your solution is reviewed, we'll issue your production keys.
Launch your next product

Save on vendor complexity, development budget, and integration complexity while using your capital to help your business thrive.
Get notified of new blog articles
Provide your email and subscribe for our latest blog material