How do crypto onramps work?
Fiat onramps have transformed the process of purchasing cryptocurrencies and digital assets into a streamlined and integrated experience. At the core of a fiat onramp's operation is the combination of various essential services, all working together to facilitate the transition from traditional fiat currency to digital currencies.

These platforms incorporate banking relationships to bridge the gap between conventional financial systems and the cryptocurrency market. This allows for secure transfers of fiat money from users' bank accounts into the digital currency space. Integral to these operations are identity verification systems provided by specialized vendors, ensuring compliance with KYC and AML regulations. This step is crucial in maintaining the security and legitimacy of transactions.

Onramps also require access to diverse payment rails, involving licenses and collaborations with payment vendors to offer users multiple funding options. Additionally, the wallet infrastructure is a key component, offering secure storage for the purchased cryptocurrencies. These wallets can vary in nature, providing users either full control or custodial services managed by the platform.

The collaboration with liquidity providers and exchange networks is another critical aspect, ensuring users have access to a wide range of cryptocurrencies at competitive rates. This setup facilitates efficient and cost-effective trading. Moreover, onramps prioritize regulatory compliance and robust security measures to protect user funds and personal data, underpinning the reliability and trustworthiness of the platform.
What are the steps to onramping?
Starting your journey into cryptocurrencies with Cybrid involves a few straightforward steps. Our platform is designed for easy navigation from fiat currency to digital assets, focusing on user convenience and security.
First, users complete a Know Your Customer (KYC) process, essential for safe trading and regulatory compliance. Next, they link their bank accounts using Plaid for secure and direct transactions. Users then deposit money into virtual For Benefit Of (FBO) accounts via Automated Clearing House (ACH) or wire transfers, setting the stage for their entry into the crypto world.
At the heart of Cybrid's service is sourcing the best cryptocurrency prices. We compare rates from multiple liquidity providers when a trade is executed, ensuring the best deal for our users. Cybrid manages the entire settlement process, smoothly converting fiat to digital assets.
The final step is transferring these digital assets into individual wallets. After purchasing cryptocurrencies, users can easily move them to personal wallets for further use.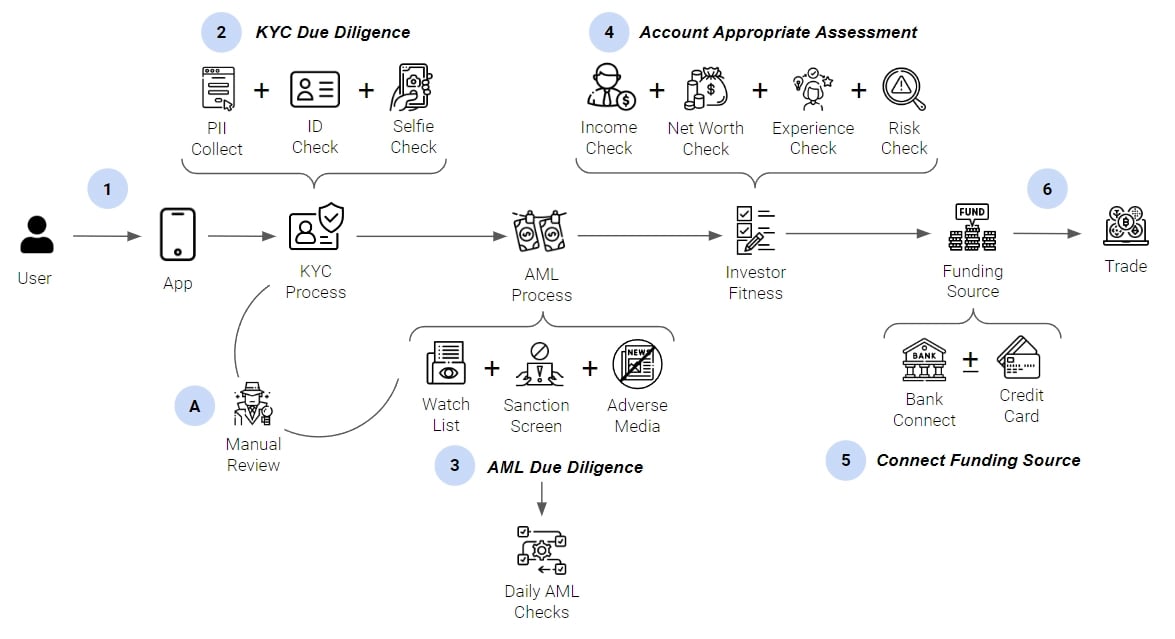 Are there non-KYC crypto onramps?
Non-KYC onramps in the cryptocurrency market are platforms that allow users to access digital assets without undergoing extensive identity verification processes typically required by traditional KYC standards. This scenario is often seen in jurisdictions where the regulatory framework does not mandate strict identity verification for every user, depending on both the location of the end user and the infrastructure provider. In these cases, non-KYC onramps may only capture limited identifiable information from users, which is permissible until a certain transactional volume threshold is reached.

At Cybrid, we recognize the importance of balancing regulatory compliance with user accessibility. We proactively implement KYC procedures from the initial platform access. This policy is in place to combat potential financial crimes and align with sponsor bank requirements, ensuring a secure and compliant trading environment. To enhance user experience and reduce dropout rates, Cybrid employs specialized UI SDK components that streamline the KYC process. This strategy enables us to provide a user-friendly verification process while upholding the necessary security and compliance standards, ensuring that our platform remains accessible, secure, and trustworthy for all users, regardless of their location.
Popular Crypto Onramps
The world of cryptocurrency onramps presents varied choices for different types of users, with end users often gravitating towards crypto exchanges, like Binance.US, Kraken, Coinbase, and Kucoin.
Businesses have different requirements when it comes to crypto onramps. They seek platforms that can integrate with their existing systems, offer a higher level of regulatory compliance, and provide tailored solutions for their specific needs. This is where specialized onramp services like MoonPay, ZeroHash, and Cybrid come into play.
Cybrid, as an embedded finance platform, stands out by offering a comprehensive suite of services that not only includes easy onramping of cryptocurrencies but also provides tools for seamless integration into various payment models.
Future of Crypto Onramps
As the financial world evolves, crypto onramps are set to become a crucial link between traditional and digital currencies. The rise of advanced digital wallets, especially programmable wallets, is expected to revolutionize how we interact with various forms of money. These wallets, capable of executing complex financial transactions automatically, will rely heavily on efficient onramp services to seamlessly convert traditional currencies into digital currencies, like USDC.
In this changing landscape, platforms like Cybrid are poised to play a pivotal role. They will need to adapt to handle not just current cryptocurrencies but also new digital formats of traditional currencies. The key will be in offering flexible, secure, and user-friendly onramping solutions that cater to both the emerging technology and emerging markets. As these developments unfold, Cybrid and similar platforms will be at the forefront, ensuring a smooth transition for users moving between the evolving worlds of traditional and digital finance.
How do I get started with Cybrid?
Getting started with Cybrid is a streamlined and developer-friendly process. If you're ready to explore the possibilities with Cybrid, you can begin immediately in our sandbox environment. This sandbox offers a risk-free space for developers to experiment and familiarize themselves with our platform's capabilities, like onramp, ensuring a smooth integration with your existing systems.

Once you're comfortable and ready to move forward, the next step involves understanding our pricing structure and the specifics of our contract. For this, we recommend booking time with our experienced sales team. They will provide you with all the necessary information, tailor a plan that best suits your business needs, and guide you through the contracting process.


Learn more about Payment Operations.