Crypto Infrastructure for Business
Fintech software that facilitates onboarding, money movement, asset
trade, crypto custody, and full account ledgering.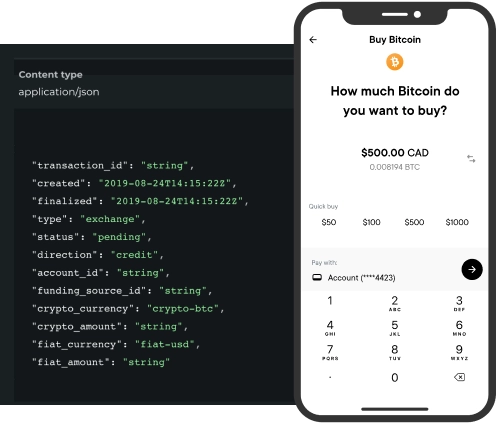 EMBEDDED CRYPTO INFRASTRUCTURE
Cybrid
brings it all together
Jump into our sandbox to experience first hand how our software operates.
Reduce build time by using our library of ready to use UI components.
Basic cash accounts & bank account connect via native Plaid integration.
Software assists with compliance requirements & account connectivity.
Simple Trade Functionality
The Trade API endpoint provides fiat to crypto and crypto to fiat with full ledgering, and scalable structure.
A smart router aggregates price feeds and orders from multiple market makers for best price.
Assets in cold storage are held with a Qualified Custodian who maintains SOC 1 Type II and SOC 2 Type II.
Unlock the exciting possibilities of Decentralized Finance in a secure and travel rule compliant manner.
OPTIMIZE YOUR BUSINESS
Get the most out of your crypto infrastructure
On / Off Ramp Crypto

Crypto Trade

Crypto Wallet

Crypto Custody

Full Account Ledgering
Fewer dropouts with our best-in-class verification process
To participate in crypto, people first need to acquire it. Before they can do that, a person's identification needs to be verified, their financial accounts need to be connected, and additional screening steps for KYC AML compliance requirements, depending on jurisdiction. Our software solution facilitates this multi-vendor process in a friendly-flow that minimizes drop-out rates.
Market-ready cryptocurrency trading software
Easily embeddable crypto software to buy & sell the most popular assets. Our cloud based infrastructure distills price feeds, orderbooks, quote windows, and other aspects from multiple market makers into simplified API end points.
For a developer, there is no easier way to integrate cryptocurrency into a project. Our code is in public GitHub repositories allowing our SDK components to be used as needed to build your crypto platform.
Infrastructure to support crypto wallets for business use cases.
Our wallet feature is built on top of a robust and highly secure infrastructure that includes multiple layers of security, encrypted keys, biometric authentication, and secure backups.
Enterprise-grade Wallet security includes:
MPC-CMP
SOC 2 Type II
ISO 27001, 27017, 27018
Our infrastructure supports the most popular coins & tokens across multiple networks.
Are you specifically interested in a USDC wallet solution for global payments and remittance? We can help you do that! Book some time to chat with our sales team to discuss further.
We take crypto custody security seriously
For those looking for a crypto custody solution, partner with Cybrid Technology for safe and secure access to crypto custodians. We are a premier developer and provider of software solutions for financial institutions and regulated entities. With years of combined experience in blockchain technology, crypto trading, cybersecurity and finance, Cybrid offers an unparalleled level of expertise.
Integration with a custody solution provider that has SOC 1 Type II and SOC 2 Type II certification.
API-powered accounts for fiat & crypto
We create isolated sub-ledgered accounts that track all pending and posted fund movements as trades are requested, executed and settled. We rely on an immutable ledger database to ensure that transactions can never be destroyed or tampered with.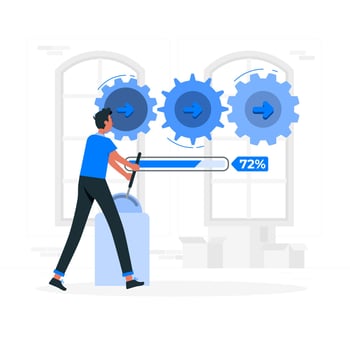 Onboarding Process Flow Chart (for your users) with Cybrid
STEP 1: Initialize Account
STEP 2: KYC Process
STEP 3: AML Due Diligence
STEP 4: Investor Fitness (If required)
STEP 5: Connect Funding
STEP 6: Start Trading
Infrastructure for your crypto needs