What you need to launch
Software that will facilitate trading, custody and support compliance for securities dealers.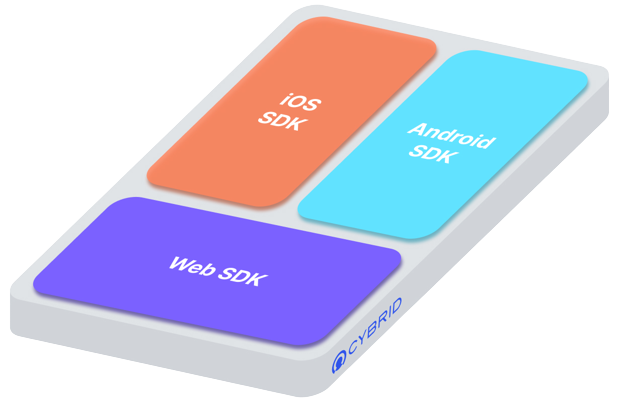 POWERFUL FEATURES
Cybrid
brings it all together
Jump into our sandbox to experience first hand how our software operates.
Tiered & Scalable Pricing
Budget accurately with known costs.
Configure a spread fee on every trade performed.
Component support available for Android, iOS, and Web.
Reduce build time by using our library of ready to use components.
API clients auto-generated in 7 of the most popular coding languages.
A smart router aggregates price feeds and orders for best price.
Software assists with compliance requirements & account connectivity.
THE CYBRID SWEET SPOT
High level crypto tooling for fintechs and web3s

OPTIMIZE YOUR BUSINESS
Get the most out of your crypto software
On & Off-Ramp

Crypto Trade

Safe & Secure

Full Account Ledgering
Fewer dropouts with our best-in-class verification process
To participate in crypto, people first need to acquire it. Before they can do that, a person's identification needs to be verified, their financial accounts need to be connected, and additional screening steps for compliance requirements are required, depending on jurisdiction. Our software solution facilitates this process in a friendly-flow that minimizes drop-out rates.
Market-ready cryptocurrency trading software
Easily embeddable crypto buy & sell software. Our software distills price feeds, orderbooks, quote windows, and other aspects into simplified APIs. Our code is in public GitHub repositories allowing your engineers to integrate our SDK components to build your crypto platform.
We take security seriously
Partner with Cybrid Technology for safe and secure and crypto infrastructure. We are a premier developer and provider of software solutions for financial institutions and regulated entities. With years of combined experience in blockchain technology, crypto trading, cybersecurity and finance, Cybrid offers an unparalleled level of expertise.
Accounts for fiat & crypto
We create isolated sub-ledgered accounts that track all pending and posted fund movements as trades are requested, executed and settled. We rely on an immutable ledger database to ensure that transactions can never be destroyed or tampered with.
CRYPTO FOCUS
Our software satisfies KYC & AML requirements, and facilitates trade

Identity made simple
Our platform uses best best-in-class vendors to enable KYC & AML processes.

Trading made simple
Our software facilitates secure connectivity to users' financial accounts to fund their crypto trading.

Custody made simple
Our regulated affiliate will take care of the custody on behalf of the end user.
Who is Cybrid Technology?
Cybrid Technology Inc is proudly Canadian and focused on providing world class software solutions for crypto markets. Our team is comprised of veterans from the Financial Technology, Security, and Blockchain industries who have come together to combine knowledge and expertise to provide the best crypto platform for business.
What does your software do?
Cybrid technology software simplifies running a crypto trading platform by abstracting the technical complexity of working with liquidity providers, custody providers, KYC providers and AML providers. The software facilitates crypto on and off-ramp with the ability to enable buy/sell/hold of crypto currencies.
How does the pricing work?
Simple! We price like a SaaS company, with easy to understand pricing tiers. Book time to chat with our Sales team to learn more or request our pricing!
How does my company get started?
Software for your crypto needs