EMBEDDED FINANCE
Fiat

<>

Crypto infrastructure
Easily embed crypto buy and sell functionality, and more, into your application. Generate revenue through traded volume.
Get building today with no integration fee! EMBEDDED CRYPTO INFRASTRUCTURE
Covering everything from account connection to the crypto wallet.
Consolidate vendors to save cost and time.
To participate in crypto, the top challenges are the need to acquire it, hold it, and use it. This requires stitching 12+ vendors together to offer basic functionality:

Account connection

KYC & AML compliance

General ledgering

Banking & money movement

Crypto liquidity

MPC wallet custody

Cold storage custody
All of this takes considerable investment of time and money. Bootstrap your company's development by embedding our infrastructure as a solution.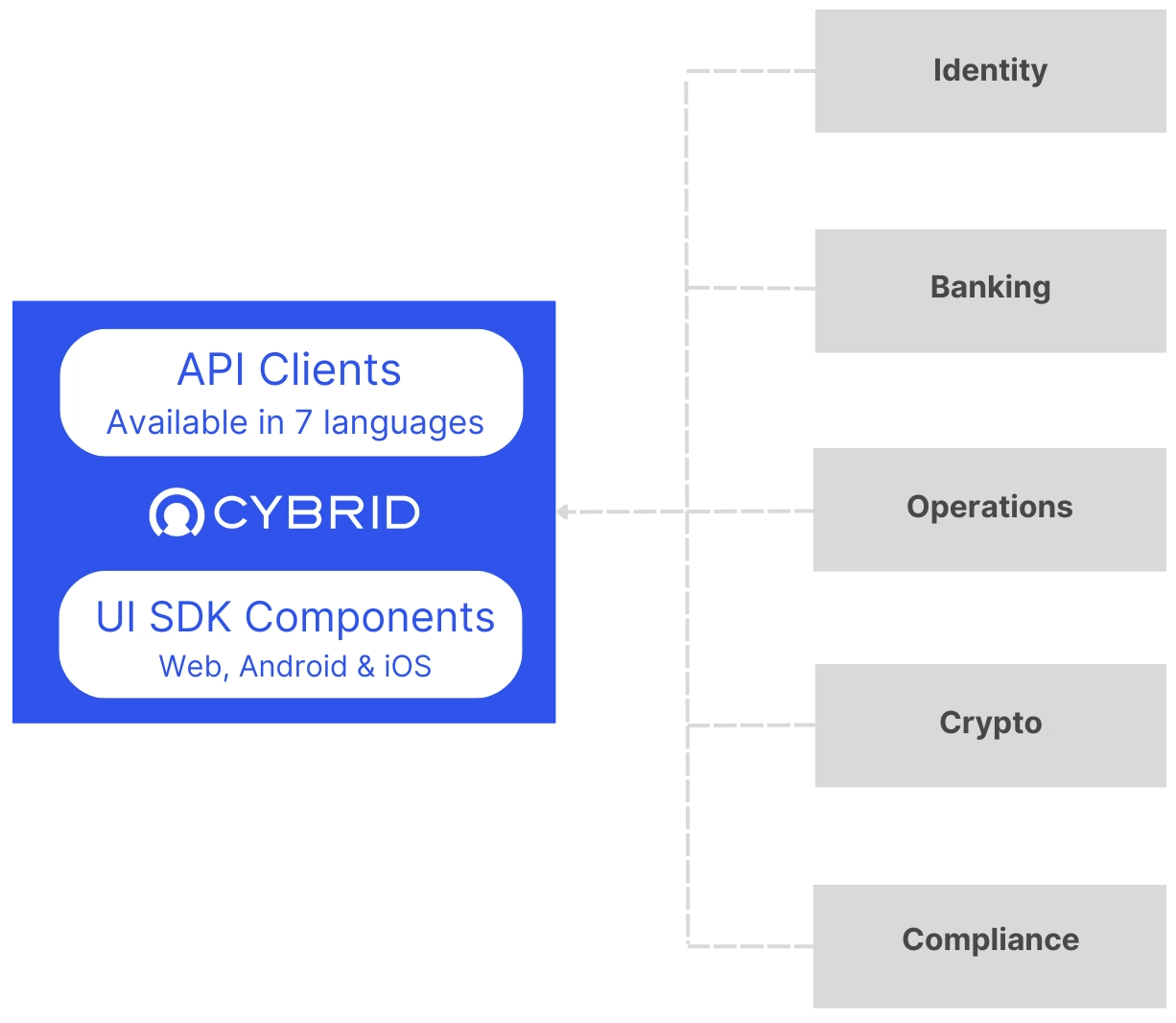 Identity made simple
We use best-in-class vendors to provide you with software that minimizes drop-out rates, detects fraud, and enables KYC & AML processes.

Trading made simple
Our software facilitates secure connectivity to users' financial accounts to fund their crypto trading with local fiat currencies (USD & CAD).

Revenue made simple
Our platform allows you to participate in trade fees on every executed trade by setting your trade spread.

Custody made simple
Our regulated affiliate will take care of the custody on behalf of the end user, ensuring crypto is safely stored.
FIAT-CRYPTO AND CRYPTO-FIAT
Unlock liquidity with best in-class aggregator
Our software distills multiple liquidity providers' price feeds, orderbooks, quote windows, and other aspects into simplified, enterprise-grade APIs that your engineers can build & rely on.
Bootstrap with Open Source UI components
Our code is available in public GitHub repositories allowing your engineers to use our SDK components, or use as necessary, to build the platform you need.
What is an on and off ramp?
The Cybrid on/off ramp infrastructure provides everything you need as a business to start operating with digital currencies.
All of the traditional operating requirements like identity to banking, as well as the crypto infrastructure like liquidity providers and wallets.
Our all-in-one solution can be integrated as required resulting in flexibility in your product design.
How does my company get started?
What is the pricing?
Our pricing is simple:
$0 integration fee

Monthly SaaS fee based on users, with startup tiers available




KYC performed / user
Book time to chat with our Sales team to learn more!
What fiat currencies does your on ramp / off ramp support?
We have licenses and banking relationships for operating with USD and CAD.
Our on/off ramp network of liquidity providers to the Cybrid platform do have other FIAT pairings available - contact our Sales team for more information.
What coins do you support?
We support Bitcoin, Ethereum and a variety of other cryptocurrencies we have approved through our liquidity providers.
Minimum buy orders are $0.01 - $1.00 which is dependent and set by the liquidity provider.
How does a coin get listed?
Cybrid Technology Inc. provides access to liquidity providers offering digital currencies and does not influence or control listings.
Regulated entities using Cybrid Technology Inc's software are responsible for independently performing due diligence and determining security status.
A full suite of tooling with technical support. It's why

developers

Cybrid!